Thrasher Commercial Foundation Repair Serving NE, IA, MO
Geotechnical Engineering and Commercial Foundation Support
Thrasher Commercial is a family owned and operated business founded in 1975 in Omaha, Nebraska.
As members of Foundation Supportworks, the nation's largest network of independent foundation repair contractors, Thrasher offers services and products unparalleled in the industry.
Thrasher has helped clients with their foundation issues -- in both new and existing structures, as well as basement waterproofing and crawl space repair projects -- since 1975.
Thrasher has been an installer of wall anchor systems since 1986 and foundation support piers since 1993.
We currently maintain a staff of 15 knowledgeable representatives who specialize in designing foundation stabilization solutions for commercial, industrial, municipal, governmental, and residential clients and have 15 installation crews on the job every day.
Thrasher completes about 2,500 commercial and residential projects annually.
Business Integrity Awards

Today that drive continues and was recognized by the Better Business Bureau in 2013, 2008, and 2000 as Thrasher was honored with the Business Integrity Award.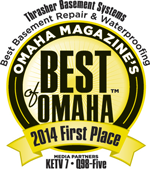 Thrasher was also honored with the BBB's "Honorable Mention" distinction in 2006 and as a finalist for the same award in 2007.
Perhaps the best reflection of our work and service can be found in the many letters and notes received from satisfied customers.
With over 75 staff members working in all areas of installation, service, scheduling, administration, sales and customer service, Thrasher employees manage every step of your project – from the first phone call through to the installation process. No confusion. No bottlenecks. Award-winning service for every customer!
Local Foundation Contractor Service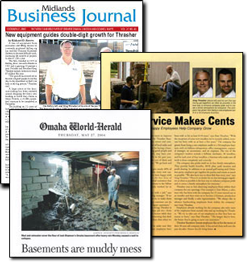 As local contractors in the community, we feel a special responsibility for their clients. Each job site is just a short drive away, so we're able to arrive whenever you need them.
We understand that issues can and do arise during construction, and revisions may need to be made mid-stream to accommodate design changes, account for unexpected soil changes, make room for unearthed foundations, or for other reasons.
Thrasher has the experienced field personnel and office staff to help you work through those issues. We are totally committed to doing the job right and to being prepared for anything.
We have employed three licensed professional engineers who can be available to assist with your project: Jeff Kortan, P.E., geotechnical engineer, Kyle Olson, P.E., structural engineer, and Don Deardorff, P.E., geotechnical engineer, who have a great deal of experience with this region's soil conditions and understand all types of structural design.